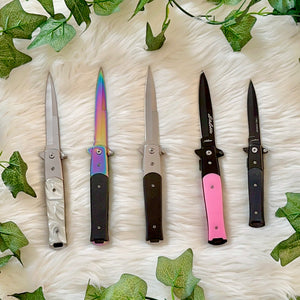 Safeguarding Style: Unveiling Our Stiletto Collection for the Holidays!
Discover the perfect blend of style and safety with our newest stiletto knife collection, just in time for the holidays! As a single-led Latina-owned small business committed to promoting safety with flair, we not only bring you cutting-edge designs but also give back to the community. With every sale, we make a donation, contributing to mutual aid group, Sacramento Punks with Lunch.
But that's not all – we're dedicated to excellence. Enjoy peace of mind with our free replacements offered within the first year, provided it's lost or damaged during an act of self-defense. Choose us for a purchase that goes beyond just a transaction – it's a commitment to safety, style, and giving back.